SOAP - Organic Natural Luxurious Herbal Beautifying Soap
Natural Face Soap for all skin types, especially Dry skin, Mature skin, Combination skin
Chemical free soap that gently cleanses, purifies and moisturises the skin
with the precious and delicate floral notes of Rose geranium, Rosa damascena, Patchouli and Sandalwood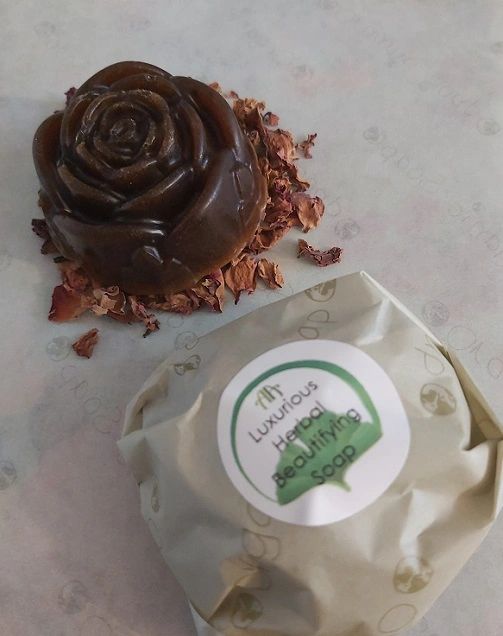 Organic Natural Luxurious Herbal Beautifying Soap by ANTIQUE APOTHECARY, packed with the precious and delicate floral notes of Rose geranium, Rosa damascena, Patchouli, Sandalwood not only smells amazing, but it also leaves your skin feeling silky smooth and well hydrated.
Daily use of this soap cleanses gently, purifies and moisturises all skin types, especially normal, dry, mature, sensitive, combination skin, ensuring perfect hygiene and healthier skin.
HOW TO USE
Use Organic Natural Luxurious Herbal Beautifying Soap to remove skin's impurities and prepare the skin to enjoy at maximum lotion's and cream's or balm's benefits.
Using lukewarm water make a thick foam to apply on the entire face, avoiding the eye area.
Massage gently and rinse with fresh water.
Use a soft towel to remove excess water and spray the Lotion on the entire face, avoiding the eye area; now your skin is ready to absorb all the benefits of your cream or balm.
ANTIQUE APOTHECARY has developed, with care and love, superior quality organic soap-blend formulations, for all the family, using the best natural organic ingredients, which go far beyond the simple cleaning action.
Luxuriously rich and creamy, our soaps help your skin be healthier, re-balanced and beautiful. Give your skin the tender touch it deserves with our wonderful natural soaps range, which will nourish and pamper your skin, leaving it clean, nourished, refreshed and beautiful.
ORGANIC PURE AND NATURAL SOAPS by ANTIQUE APOTHECARY are beautifully wrapped in environmentally-friendly, grease-proof and breathable EcoWrap paper, which is made of recycled paper, completely biodegradable and free from petrochemicals.
All our soaps come in 50gr assorted shapes soap bars, beautifully wrapped in free assorted gift boxes and packages.
No artificial ingredients, no synthetics, no petroleum products, no silicones and, certainly, no perfumes.
Our soaps, as all our products, have not been tested on animals and never will be.
RELATED PRODUCTS
Anti Ageing Facial Beauty for ultra Dry and Mature Skin
Copyright © 2009-2020 ANTIQUE APOTHECARY LTD. All rights reserved.