REGENERATING ANTI AGEING ANTI WRINKLE CREAM: Regenerating Cream with Siberian Ginseng & Kelp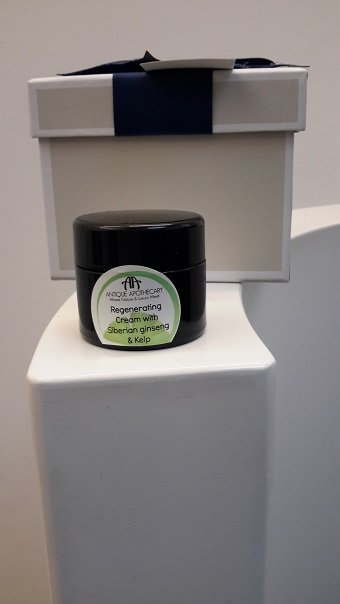 MICROBIOLOGICALLY TESTED PRODUCT
100% HANDMADE FROM SCRATCH IN THE UK, USING ALL NATURAL CERTIFIED ORGANIC INGREDIENTS
NO GMO, NO PARABENS, NO ADDITIVES, NO PERFUMES, NO LANOLINS, NO MINERAL OILS, NO SLS
NO TESTED ON ANIMALS AND NEVER WILL BE
Regenerating - Anti Ageing - Anti Wrinkle - Cream for all skin types, including mature, tired and sensitive skin types, for deep skin rejuvenation.
This is a "working-wonders" cream with deep anti-ageing properties that intensely nourish your skin leaving it pleasantly scented and your senses relaxed. Anti-wrinkle, Anti-oxidant, Emollient and Nutritive Regenerating Cream with Siberian Ginseng & Kelp by Antique Apothecary promotes instant hydration relieving dryness, tightens and firms the skin while reducing the appearance of fine lines and wrinkles; it also donates a smoother plumper and radiant skin visibly improving dullness of the skin. Regenerating Cream with Siberian Ginseng & Kelp by Antique Apothecary due to its natural active ingredients successfully fights wrinkles, therefore preventing skin's aging, balance the skin, restores skin's collagen, making your skin feel more firm and contributes to keeping your face smooth to the touch and youthful in appearance.
KEY INGREDIENTS:
Kelp

;

mineral and antioxidant rich seaweed is incredibly nourishing, moisturising and softening for the skin, with

potent anti-ageing properties. In fact, marine plants, such as Kelp, are very resilient, as they have to survive in extreme environments, so they help prevent damage to amino acids and protect the cell's membrane. This further protects against damage caused by free radicals; also they are able to re-organise the cell membrane, reversing cells damage and restoring them to their healthy state.



· Ginseng has powerful anti-ageing properties, rejuvenates the look of your skin, reducing wrinkles and fine lines, tightens skin, helps counteract dryness, and has a natural ability to balance and protect the skin from environmental stress.



· Siberian Larch trees are found only in cold latitudes, growing at elevations of more than 600 metres on open mountainsides. Their extract contributes in:
ü Skin Cell renewal
ü Reduction of fine lines and wrinkles
ü Reduction of water loss
ü Providing film forming and skin tightening, donating an instant skin radiance
ü Protecting from sun damage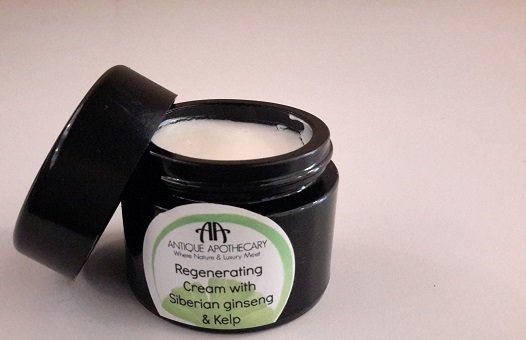 HOW TO USE: Apply Regenerating Cream with Siberian Ginseng & Kelp on clean face, after Supreme Regenerating Beauty Elixir and massage your face with light, circular movements, until complete absorption.
IMPORTANT: Regenerating Cream with Siberian Ginseng & Kelp comes in a Miron Violettglas 15ml and 30ml jar, to maintain its exceptional properties and quality over a long period.
To help you achieve a holistic well-being status of health and beauty, we recommend the use of Herbal Tea Blends to support your goals. These high quality Herbal Tea blends, professionally, consciously and lovingly created for you, can be enjoyed alone or taken as a powerful complement to boost your beauty regime.
Products associated with ANTIQUE APOTHECARY Anti-Ageing Moisturising Elixir with May Rose and Royal Orchid, as part of a holistic approach, for a total Health and Beauty well-being: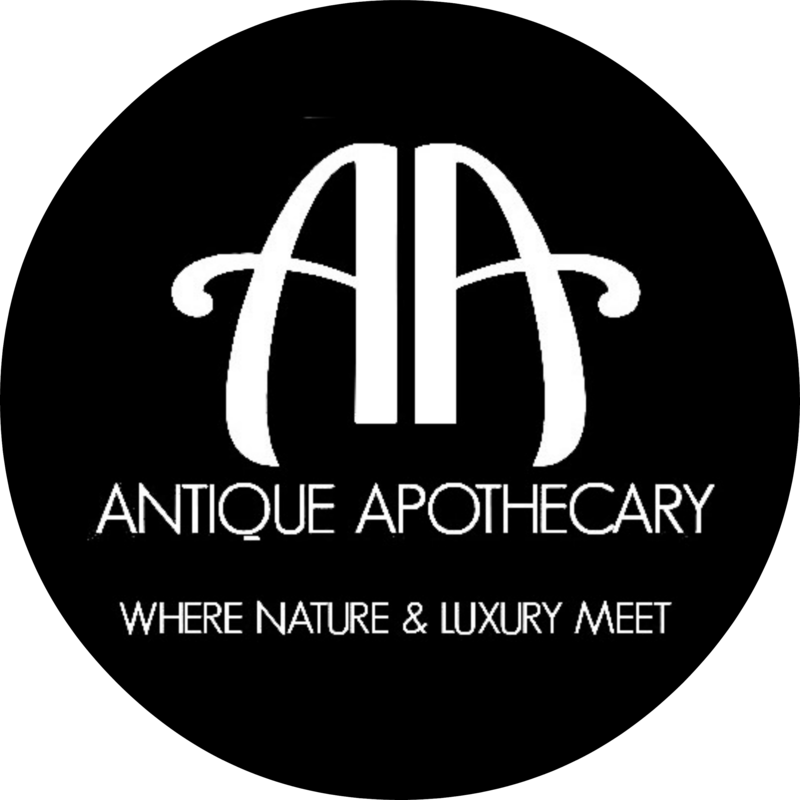 At ANTIQUE APOTHECARY, we'd like to thank our customers for shopping online with us, so with every order we'll enclose free samples (5ml) of our pure & natural skincare products (offer subject to availability).
However, you can make new beauty discoveries and also appreciate the quality of our pure & natural skincare products, by purchasing our trial size skincare samples.
Thanks for shopping with us!
ALL OUR PRODUCTS ARE AVAILABLE EXCLUSIVELY FROM US.
WHEN WE APPOINT DISTRIBUTORS OR OTHER POINTS OF SALE YOU WILL BE ABLE TO SEARCH FOR THEM ON OUR WEBSITE.
For more information and for any question you may have, please contact us.
Reviews