Liquid Gold Saffron flower extract - HERBAL EXTRACTS - SPECIAL INGREDIENTS FOR SKINCARE
Liquid Gold Saffron (Crocus sativus) flower extract
OVERVIEW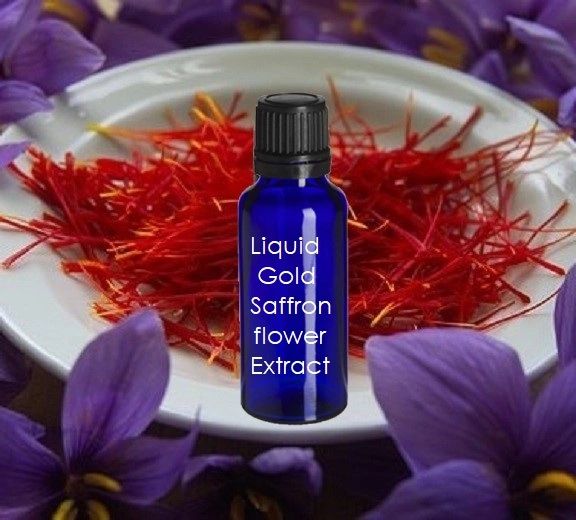 Saffron (Crocus sativus) flower extract protects against UV radiation, fights inflammation, supports wound healing, reduces hyperpigmentation. With its amazing anti-bacterial and anti-inflammatory qualities, saffron is an ideal ingredient for treating acne and breakouts, clearing up acne prone skin.
Antique Apothecary use exclusively a premium quality, organic Greek Saffron (Krokos Kozanis) with P.D.O status from the Kozani Cooperative in Northern Greece. This precious spice has significant antioxidant properties that can neutralize free radicals.
APPLICATIONS:
Add Saffron flower extract to creams, lotions and serums.
PROPERTIES:
Saffron (Crocus sativus) flower extract is a SUPER POWERFUL ANTIOXIDANT FOR ALL AGES AND FOR ALL TYPES OF SKIN. It protects skin against pollution; it increases skin's brightness, donating glowing skin; it reduces lines and wrinkles, by lifting, firming and hydrating skin's tone and texture; it boosts skin's defences.
PRESENTATION AND PACKAGING:
Saffron flower extract comes in 5ml Amber dropper glass bottle with child resistant cap.
INGREDIENTS AND MANUFACTURE:
Saffron flower extract is mainly made of organic vegetable glycerine, prepared via a cold process to avoid potential loss of effectiveness heat processing can have.
HOW TO USE:
Add Saffron flower extract 0.3-1% to your skin care to phase 3 (under 30oC). FOR EXTERNAL USE ONLY.
CONSERVATION:
Stable when stored at a dry and cool place. Approximate shelf life 2 years. After opening use the extract within 6 months, carefully protected from air, humidity and light. Close the container tightly after each use.
REED MORE:
Saffron flower extract. Not animal tested. GMO-free. Vegetarian and Vegan friendly.
Copyright © 2009-2021 ANTIQUE APOTHECARY LTD. All rights reserved.