REGENERATING ANTI-AGEING LIFTING ACTION: Supreme Regenerating Beauty Elixir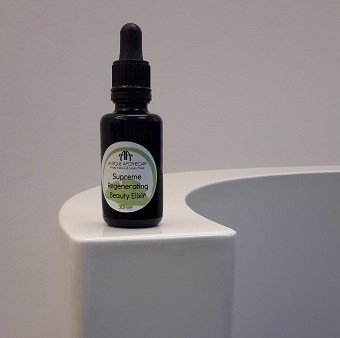 MICROBIOLOGICALLY TESTED PRODUCT
100% HANDMADE FROM SCRATCH IN THE UK, USING ALL NATURAL CERTIFIED ORGANIC INGREDIENTS
NO GMO, NO PARABENS, NO ADDITIVES, NO PERFUMES, NO LANOLINS, NO MINERAL OILS, NO SLS
NO TESTED ON ANIMALS AND NEVER WILL BE
ANTIQUE APOTHECARY Supreme Regenerating Beauty Elixir!
Take advantage of your night sleep to become more beautiful and to turn back the clock with our precious Supreme Regenerating Beauty Elixir, an authentic elixir of youth that has a lovely floral fragrance and is suitable for all skin types.
Packed with powerful nourishing, anti-ageing, antioxidants, organic vegetable oils and essential oils, which work in synergy and help skin's natural regeneration, this precious elixir:
softens and regenerates tired skin,




makes fines lines and wrinkles less visible and deep,




nourishes dry skin,




improves skin moisture and suppleness

donating a natural radiance

and prevents

cells' damage.



Its soft and penetrating feel is appreciated by all skin types. Rich in omega-3, omega-6 and -9, it is fabulous natural way to protect, soften and restructure the skin leaving a light floral scent.
Your skin has now a more youthful, lifted, healthy, beautiful look, without fine lines and less evident wrinkles.
No artificial ingredients, no synthetics, no petroleum products, no silicones and, certainly, no perfumes.
ANTIQUE APOTHECARY Supreme Regenerating Beauty Elixir, as all our products, has not been tested on animals and never will be. This product is suitable for Vegetarians and Vegans.
KEY INGREDIENTS:
Marula Oil

, with more antioxidant properties than the Argan oil,

Marula oil

is rich in essential fatty acids Omega 9-oleic and Omega 6-linoleic that deeply hydrate and reduce redness, while nourishing, healing, moisturising and improving skin elasticity; it means younger looking skin and better defence against premature skin ageing.
Inca Inchi

rich in protein, Omega 3, 6 and 9 fatty acids, alpha Tocopherol (vitamin E), carotenoids (vitamin A), which are vital to healthy skin. They help us regulate oil production, keep skin elastic, lock in hydration, protect against sun damage and help repair damage, when it occurs.
Prickly Pear

is extremely high in essential fatty acids, Vitamin E, amino acids (which stimulate collagen production to promote faster cells regeneration) and Vitamin K that brightens under-eye dark circles and promotes skin's elasticity.



HOW TO USE: Apply ANTIQUE APOTHECARY Supreme Regenerating Beauty Elixir every night on clean face, before your night moisturiser and massage your face with light, circular movements, until complete absorption.
IMPORTANT: ANTIQUE APOTHECARY Supreme Regenerating Beauty Elixir comes in a Miron Violettglas 30ml bottle, to maintain its exceptional properties and quality over a long period.

To help you achieve a holistic well-being status of health and beauty, we recommend the use of Herbal Tea Blends to support your goals. These high quality Herbal Tea blends, professionally, consciously and lovingly created for you, can be enjoyed alone or taken as a powerful complement to boost your beauty regime.
Products associated with ANTIQUE APOTHECARY Anti-Ageing Moisturising Elixir with May Rose and Royal Orchid, as part of a holistic approach, for a total Health and Beauty well-being: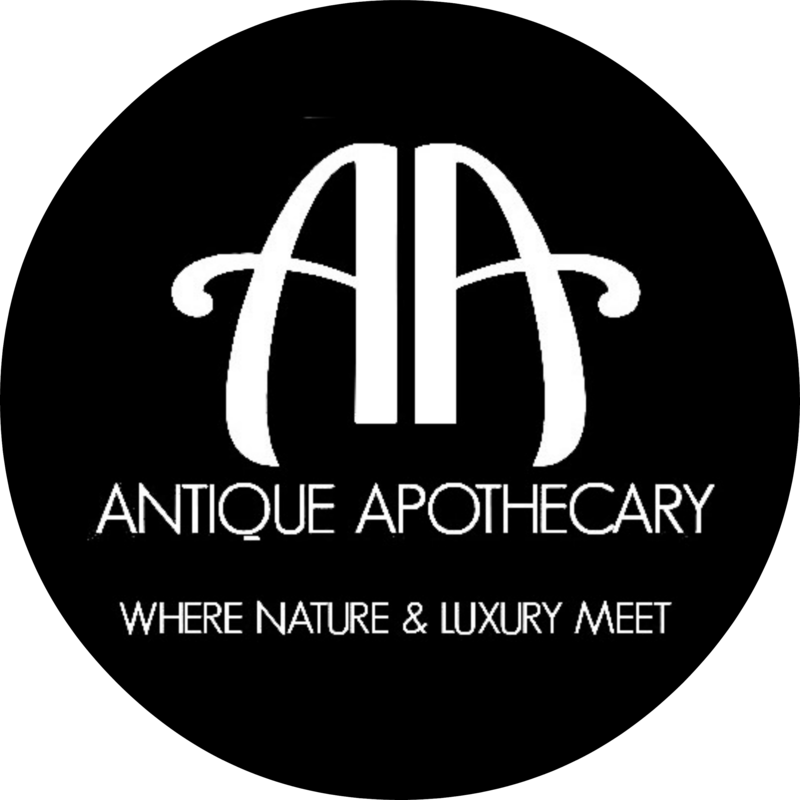 At ANTIQUE APOTHECARY, we'd like to thank our customers for shopping online with us, so with every order we'll enclose free samples (5ml) of our pure & natural skincare products (offer subject to availability).
However, you can make new beauty discoveries and also appreciate the quality of our pure & natural skincare products, by purchasing our trial size skincare samples.
Thanks for shopping with us!
ALL OUR PRODUCTS ARE AVAILABLE EXCLUSIVELY FROM US.
WHEN WE APPOINT DISTRIBUTORS OR OTHER POINTS OF SALE YOU WILL BE ABLE TO SEARCH FOR THEM ON OUR WEBSITE.
For more information and for any question you may have, please contact us.
Reviews