MyBestSkin Natural Face Moisturiser | NEW! Personalised Beauty
Natural Organic Innovative and Accessible Skin Care Products for Custom-Made Beauty
MyBestSkinTM 100% Natural Skin Care Routine - Personalised Beauty
MyBestSkinTM by Antique Apothecary are innovative and accessible 100% Natural Bespoke / Custom Made Skin Solutions, created to be enjoyed by all, thanks to the very attractive price, free gift box and free shipping in the UK.
MyBestSkinTM is the personalised skin treatment you want at a price you can afford.
Natural Skin Care Routine MyBestSkinTM, created by Antique Apothecary Herbalists and chosen by you to hydrate, nourish and protect your skin, is the best 100% natural and bespoke skin care that you can offer to your skin.
Taking care of your skin by choosing the right skin care routine tailored to your needs and lifestyle is vital, if you want a flawless, glowing, youthful and healthy skin.
A bespoke Natural Skincare at a great price? Now it is possible!
Whether you are looking to get rid of acne, re-balance combination skin, fight lines and wrinkles or give youth boost to dull skin, MyBestSkinTM natural beauty programme, concentrated formulas with powerful natural active ingredients, is for you.
Combine MyBestSkinTM Natural Face Moisturiser with one or more Specific Skin Treatments to achieve a perfectly healthy, beautiful and glowing skin.
Relax and Enjoy wonderful Natural Beauty Moments!
1. Moisturise and Nourish your skin
OVERVIEW
Start with our MyBestSkinTM Natural Face Moisturiser, formulated to make happy all skin types, including sensitive and acne prone. Packed with active whole plant extracts (naturally handcrafted by ourselves) vitamins and minerals MyBestSkinTM Natural Face Moisturiser gently hydrates and nourishes, without blocking pores.
MyBestSkinTM Natural Face Moisturiser, free of any harmful chemical, is a multi-tasking natural formula, acting also as a natural sunscreen with its Spf30 and as base for make-up.
Our MyBestSkinTM Natural Face Moisturiser is offered in two sizes: a size of 30ml and a convenient size of 30ml+30ml, so that you can create more bespoke treatments! Now, this is clever!
Great for all skin types, including acne prone skin, it is fragrance free and suitable for vegetarians and vegans.
ALL NATURAL EFFECTIVE WILDCRAFTED BIO INGREDIENTS
Aloe Vera (Aloe barbadensis) hydrosol and gel: It has hydrating, soothing and cooling properties. It's also a powerful anti-inflammatory and can treat skin conditions, such as sunburn and dry skin.
Sunflower (Helianthus Annuus) seed oil has emollient properties helping the skin retain its moisture, thanks to its rich content in Vitamin E that helps trap moisture inside skin cells, keeping skin hydrated for a longer period. It can also help protect ski's collagen and elastine, reducing the appearance of fine lines and wrinkles. (BIO)
Watermelon (Citrullus lanatus) seed oil has a high linoleic and oleic acid content, which make it potent in fighting wrinkles and premature ageing. Its content in trace minerals and omega acids can fight against hyperpigmentation. It is a powerful remedy for eye puffiness and bags. Rich in numerous vitamins and trace minerals it has powerful detoxification properties, removing impurities and toxins, leaving your skin cleansed and nourished. (BIO)
Soybean (Glycine soja) oil is rich in essential fatty acids that enhance skin's collagen synthesis, lecithin that maintains skin's elasticity, smoothing fine lines and wrinkles and antioxidants, including Vitamin E that protect skin cells from free radical damage; constituents that nourish, regenerate and heal your skin, keeping it smooth and healthy, preventing premature ageing. Soybean oil can be effective against skin blemishes and pigmentation. (BIO)
Hemp (Cannabis sativa) seed oil is rich in antioxidants and a powerful anti-ageing natural ingredient for smooth wrinkle-free skin. Hemp seed oil helps improve the skin's elasticity and water retention, keeping skin supple and youthful. (BIO)
Green tea (Camellia sinensis) leaf extract: powerful and effective antioxidant and anti-ageing ingredient, it fights DNA damage from UV rays, preventing skin cancer. Rich in Vitamin B2 and Vitamin E, Green tea protects collagen levels for youthful skin and also acts an intense hydrator for soft and nourished skin. Able to reduce irritation, redness and swelling Green tea is powerful antibacterial agent for treating acne, fighting against infection and bacterial growth that causes acne, donating smoother and toned skin. Caffeine and tannins in green tea help shrink blood vessels around the eyes, making it a miracle for treating puffy eyes and dark circles. (BIO)
Gotu kola (Centella asiatica) plant extract has a tightening and firming action on the skin. It is powerful antioxidant with anti-ageing properties, rich in amino acids, beta carotene, fatty acids and phytochemicals that protects skin. It improves circulation and also the synthesis of collagen and skin tissue, supporting skin's underlying structure and improving elasticity. (BIO)
Emulsify wax (Glyceryl stearate SE): Vegetable fatty acid esters of vegetable origin (coconut, palm, palm kernel) and glycerol, non-ionic, non-ethoxylated.
Nettle (Urtica diotica) plant extract has anti-inflammatory, astringent, bactericidal, healing and stimulating properties. It is high in phenols, which give nettle powerful antioxidant properties, helping keep the free radicals under control. (WILDCRAFTED)
Goldenseal (Hydrastis Canadensis) root extract is a natural acne remedy that gently and effectively treats acne with no side effects. It has medicinal value and, with its antibacterial and antimicrobial properties, can be used to effectively treat eczema, itching, herpes, blisters and sores. (BIO)
Sage (Salvia officinalis) plant extract, rich in antioxidants, fights naturally and effectively bacteria and free radicals on the skin that can cause premature ageing, fine lines and wrinkles, helping to reverse signs of ageing. It has also the ability to help balance oil production in the skin. (BIO)
Ashwagandha (Withania somnifera) root extract has antibacterial and antimicrobial properties, protecting the skin from infections or acne. Its high levels of antioxidants and its ability to increase collagen protect the skin from free radicals, for a healthy, glowing skin. (BIO)
Vitamin C (Ascorbic acid) is powerful antioxidant that stimulates collagen production, improving skin's appearance and texture. It is also protects the skin from environmental pollution and discoloration, helping you get beautiful, younger and smoother skin.
Vitamin A (Retinol palmitate) encourages healthy skin cell production, it stimulates fibroblasts, keeping skin firm and healthy.
Vitamin E (Tocopherol): Powerful anti-oxidant.
Provitamin B5 (Panthenol): This vitamin attracts and keeps the moisture under the surface of the skin, increasing the skin's hydration and improving skin's natural ability to hydrate itself. When Provitamin B5 is absorbed by the skin, it transforms into Vitamin B5 (Pantothenic acid) which has a natural ability to moisturise, reduce the appearance of fine lines and wrinkles, soothe, protect and regenerate the skin, as it fights free radicals, promoting new skin cells, while reducing inflammation and redness at the same time.
Siberian Pine (Abies sibirica) oil It donates you a balanced, smooth, renewed and shiny skin, acting as an antioxidant for free radicals. (WILDCRAFTED)
Hyaluronic acid (Sodium hyaluronate) has the unique ability to hold moisture, improving skin's hydration and texture. It effectively plumps out the skin, by reducing fine lines and wrinkles, donating plumper, firmer and glowing skin. It also revitalises skin, making it looking and feeling softer, smoother and luminously hydrated.
Bisabolol (Alpha bisabolol) has natural anti-inflammatory properties, moisturises deeply the skin and stimulates collagen production, helping soften lines and wrinkles and delaying the appearance of aging. It is also offers natural skin-lightening, as it inhibit melanin synthesis, fading hyperpigmentation.
HOW TO USE: Apply a small quantity of the moisturiser on clean face and massage gently until complete absorption.
2. Specific Skin Treatment
Now your skin is ready to receive the specific serum treatment.
Choose one or more from the following specific active serums:
Now your skin has all it needs to be happy and healthy: hydrators to hold moisture, natural oils for the right nourishment, powerful anti-ageing and rejuvenating ingredients to fight lines and wrinkles and donate a radiant, healthy glow to your complexion.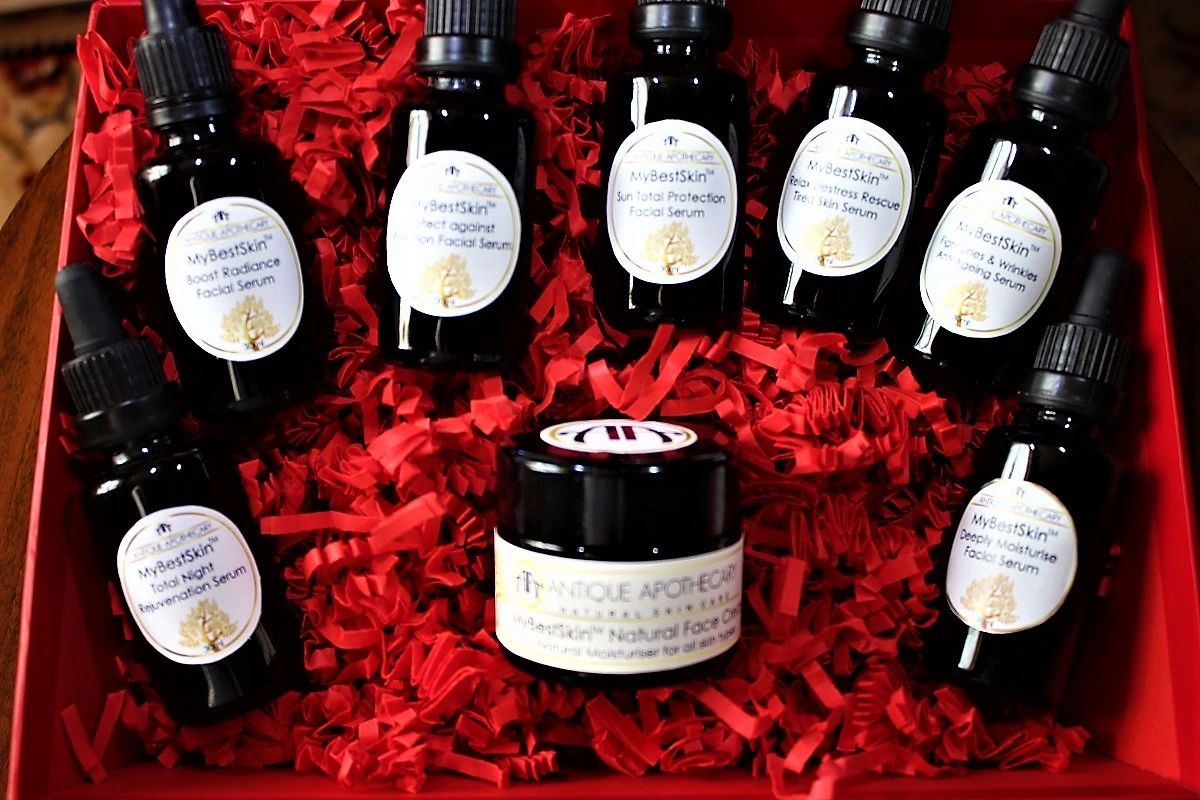 All ANTIQUE APOTHECARY Products come beautifully wrapped in free assorted gift boxes and packages.
We thank you for your loyalty and we wish you a life-time Beautiful, Radiant and Healthy Skin with ANTIQUE APOTHECARY.
Copyright © ANTIQUE APOTHECARY LTD 2013-2020. All rights reserved.