BEST ANTI AGING CREAM - Royal Orchid & Helichrysum italicum Total Renewal & Anti-Ageing Herbal Cream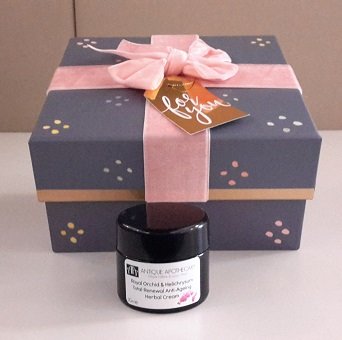 Best Anti Aging Cream; Royal Orchid & Helichrysum italicum Total Renewal & Anti-Ageing Herbal Cream by ANTIQUE APOTHECARY, made of powerful Organic Herbal Remedies, has an anti-oxidant and emollient formula, with powerful anti-ageing and anti-inflammatory properties, which aims at restoring existing skin's damage and supports the natural regeneration process of the skin.
This active regenerating and powerful antioxidant cream fights the signs of ageing and helps protect the skin from cellular damage at both dermis and epidermis level, by reinforcing cell cohesion.
It has a remarkable efficacy on healing and restoring integrity, tone and suppleness of mature skin, repairing and regenerating damaged skin and fighting against the effects of ageing and stress.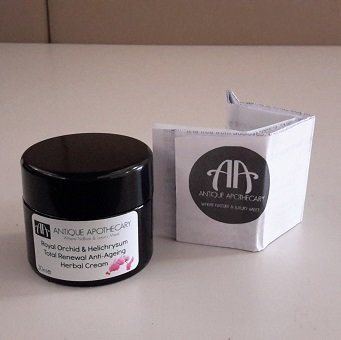 Due to its super-ingredients, it is also particularly indicated to moisturise, replenish, rejuvenate, revitalise and regenerate mature skin, by stimulating the production of fibroblasts and promoting collagen synthesis.
This cream donates you the full age-defying power of the Royal Orchid, the longevity's rare and delicate flower; it is a unique, new-generation cream with multiple benefits aim at sublimating skin, by reducing wrinkles, restoring firmness and enhancing hydration.
Thanks to the richness of its anti-oxidants and minerals, the botanical extract of the Royal Orchid has unique protective, hydrating and anti-ageing benefits and is used in both preventive and smoothing anti-wrinkle care.

KEY INGREDIENTS
ANTIQUE APOTHECARY ELIXIR

TM

unique proprietary formula, created by our expert herbalist, to boost product's properties.

Solar Infused Organic Oils

with ANTIQUE APOTHECARY Skin Care Special Blend of Organic Dried Herbs.

Royal Orchid Extract

: Nourishes and Softens the Skin - Protects skin against free radicals - Promote skin's regeneration.
Argan Oil

: Effective moisturiser - Donates a youthful glow and reduce the visibility of wrinkles - Restores elasticity, repairs damage skin and leaves skin feeling plumper and softer – Encourages skin's healing
Immortelle

: Antioxidant - Reduces inflammation and Detoxifies - Heals quickly wounds, cuts, scars
Jasmine

:

Excellent for dry, brittle, dehydrated skin

Blood of the Dragon resin extract: this is an active regenerating and powerful antioxidant

Siberian Larch extract

: has powerful antioxidant and lightening properties; it reduces age spots, unifies and restores radiance to the skin complexion, while boosting collagen synthesis.

How to use: For a rejuvenated, toned and supple skin, apply morning and evening on clean skin, using the supplied spatula and softly massage until absorption.
MICROBIOLOGICALLY TESTED PRODUCT
100% HANDMADE FROM SCRATCH IN THE UK, USING ALL NATURAL CERTIFIED ORGANIC INGREDIENTS
NO GMO, NO PARABENS, NO ADDITIVES, NO PERFUMES, NO LANOLINS, NO MINERAL OILS, NO SLS
NOT TESTED ON ANIMALS AND NEVER WILL BE
IMPORTANT: ANTIQUE APOTHECARY Royal Orchid & Helichrysum italicum Total Renewal & Anti-Ageing Herbal Cream comes in a MIRON violet glass jars (15ml & 30ml beautifully wrapped in free assorted boxex and packages) in order to maintain its exceptional properties and quality over a long time period.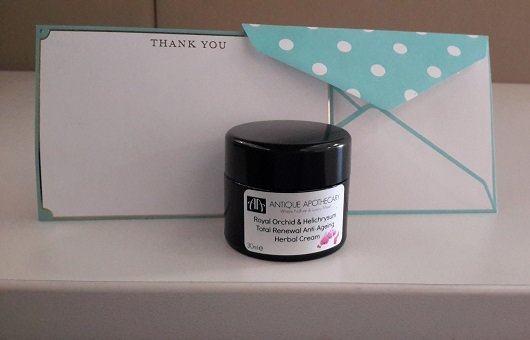 To help you achieve a holistic well-being status of health and beauty, we recommend the use of Herbal Tea Blends to support your goals. These high quality Herbal Tea blends, professionally, consciously and lovingly created for you, can be enjoyed alone or taken as a powerful complement to boost your beauty regime.
Products associated with ANTIQUE APOTHECARY Royal Orchid Helichrysum Total Renewal Anti-Ageing Herbal Cream, as part of a holistic approach, for a total Health and Beauty well-being: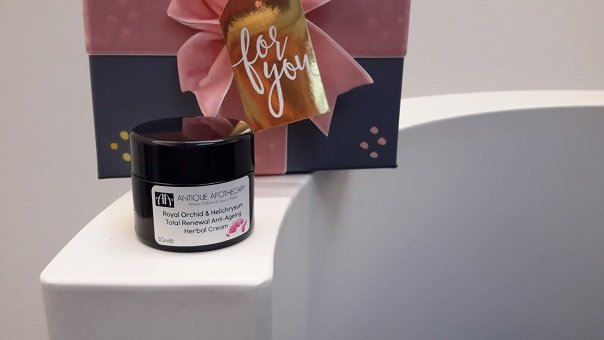 At ANTIQUE APOTHECARY, we'd like to thank our customers for shopping online with us, so with every order we'll enclose free samples (5ml) of our pure & natural skincare products (offer subject to availability).
However, you can make new beauty discoveries and also appreciate the quality of our pure & natural skincare products, by purchasing our trial size skincare samples.
Thanks for shopping with us!
ALL OUR PRODUCTS ARE AVAILABLE EXCLUSIVELY FROM US.
WHEN WE APPOINT DISTRIBUTORS OR OTHER POINTS OF SALE YOU WILL BE ABLE TO SEARCH FOR THEM ON OUR WEBSITE.
For more information and for any question you may have, please contact us.

Reviews