CELLULITE - Organic Natural Anti-Cellulite System: Anti-Cellulite Herbal Oil + Slimming Herbal Tea
MICROBIOLOGICALLY TESTED PRODUCT
100% HANDMADE FROM SCRATCH IN THE UK, USING ALL NATURAL CERTIFIED ORGANIC INGREDIENTS
NO GMO, NO PARABENS, NO ADDITIVES, NO PERFUMES, NO LANOLINS, NO MINERAL OILS, NO SLS
NO TESTED ON ANIMALS AND NEVER WILL BE
Cellulite; Natural Organic Body Care; Total Anti-cellulite System by ANTIQUE APOTHECARY:

Anti-Cellulite Therapeutic Luxurious Herbal Oil + Slimming Herbal Tea Blend, is a made of 30 Powerful Organic Herbal Remedies, Pure Therapeutic Grade Essential Oils, Vitamins and 3 Active Carrier Oils.
Anti-Cellulite Therapeutic Luxurious Herbal Oil by Antique Apothecary is a real cocktail of benefits to body and soul, a 100% natural skin tonic with anti-inflammatory, stimulating and invigorating properties thanks to its essential oils, vitamins and carrier oils, that:
stimulates and accelerates body's metabolism,


dissolves body's fat, promotes healthy circulation,




hydrates the skin, strengthens connective tissue,



increases circulation and de-congests sluggish/under-active tissues; in fact,

by increasing circulation it prevents lymph's accumulation,

leaving the skin visibly soft and smooth.




strengthens capillaries,




tightens skin and reduces water retention,

fights against stretch marks and scars,

helps muscles to relax.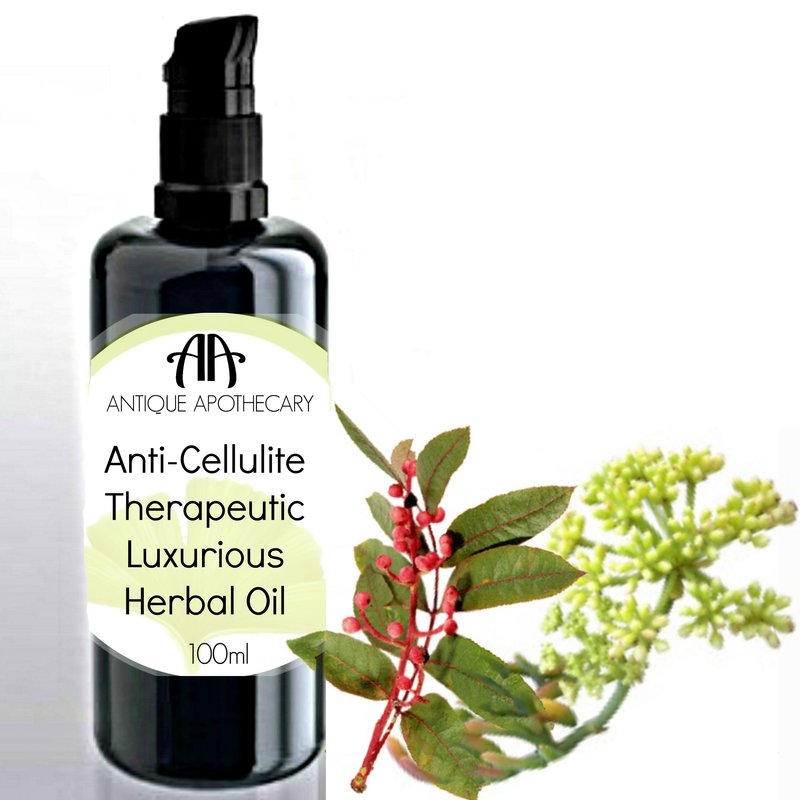 Anti-Cellulite Therapeutic Luxurious Herbal Oil by Antique Apothecary is really effective in cellulite treatment and you will love how your skin feels even after the first application! It is free from additives, chemical preservatives, artificial fragrances or any other harsh, unsafe ingredients.
Lovingly Handmade in the UK, using Soil Association Certified Organic Ingredients

KEY INGREDIENTS.
Solar Infused Organic Oils

with ANTIQUE APOTHECARY Skin Care Special Blend of Organic Dried Herbs.

Fennel

: helpful in oedema, cellulite, obesity

Cinnamon

: promotes healthy circulation

Caraway

: effective tissue regenerator.
How to use: Apply and massage the affected area Morning and Evening. To maximise the slimming, toning and re-energising effects of this serum, gently massage this serum on the areas to treat (thighs, hips, belly, etc) always after physical exercise and after taking a bath or shower. In fact, the body's increased temperature following exercise or a shower/bath helps to increase its effectiveness.
DO NOT USE DURING PREGNANCY AND BREAST FEEDING
IMPORTANT: Anti-Cellulite Therapeutic Luxurious Herbal Oil by Antique Apothecary comes in a MIRON violet glass jar or bottle (100ml in free assorted gift boxes and packages) in order to maintain its exceptional properties and quality over a long time period.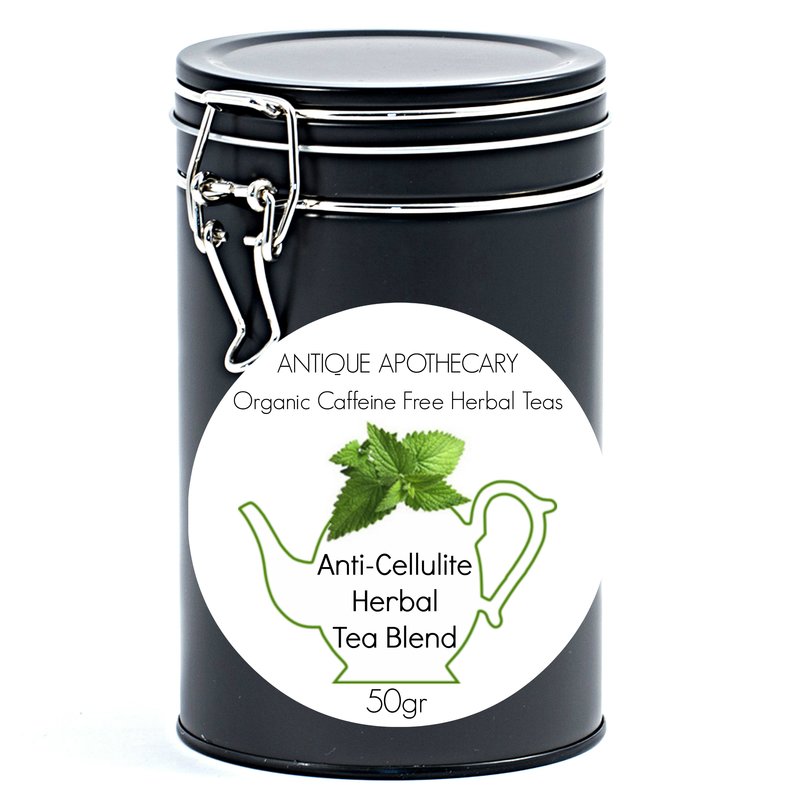 The high quality Slimming Herbal Tea by Antique Apothecary (50gr) professionally, consciously and lovingly created for you, can be enjoyed alone or taken as a powerful complement to boost your beauty regime.
Products associated with Anti-Cellulite Therapeutic Luxurious Herbal Oil, as part of a holistic approach, for a total Health and Beauty well-being:
ALL OUR PRODUCTS ARE AVAILABLE EXCLUSIVELY FROM US.
WHEN WE APPOINT DISTRIBUTORS OR OTHER POINTS OF SALE YOU WILL BE ABLE TO SEARCH FOR THEM ON OUR WEBSITE.
For more information and for any question you may have, please contact us.

Reviews