FACIAL SKIN TONER | FACE LOTION - Clarifying Lotion with Peppermint
Best Natural Face Toner for Oily Skin, Combination skin, Normal skin
Natural Face Toner with Peppermint
Clarifying Lotion with Peppermint by ANTIQUE APOTHECARY is a Skin Treatment formulated for Acne prone skin and Rosacea prone skin, but loved by everyone!
HOW TO USE:
Spray this infusion every morning and night on the face just before your day / night cream.
KEY INGREDIENTS
Peppermint hydrosol - invigorating and refreshing, this hydrosol tightens pores, relieves skin itching and brightens dull complexions.
White water lily extract - rich in nutrients and antioxidants, the water lily is also known for its purifying, beautifying and moisturising properties.
IMPORTANT: ANTIQUE APOTHECARY Clarifying Lotion with Peppermint comes in hand-filled MIRON Violettglas bottle (100ml, beautifully wrapped in assorted boxes and packages) in order to maintain its exceptional properties and quality over a long time period.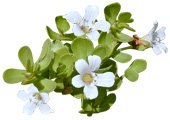 At ANTIQUE APOTHECARY we'd like to thank our customers for shopping online with us, so with every order we'll enclose free samples (5ml) of our pure and natural skincare products (offer subject to availability) for you to make new beauty discoveries and also appreciate the quality of our pure and natural skincare products.
Thanks for shopping with us!
ALL OUR PRODUCTS ARE AVAILABLE EXCLUSIVELY FROM US.
WHEN WE APPOINT DISTRIBUTORS OR OTHER POINTS OF SALE YOU WILL BE ABLE TO SEARCH FOR THEM ON OUR WEBSITE.
Copyright © 2013-2019 ANTIQUE APOTHECARY LTD. All rights reserved.